Bryan-College Station is a great place to live. Whatever your price range, space requirements, or other particulars, there is undoubtedly a perfect neighborhood for you! You can see where each neighborhood is located by finding its number on the map below.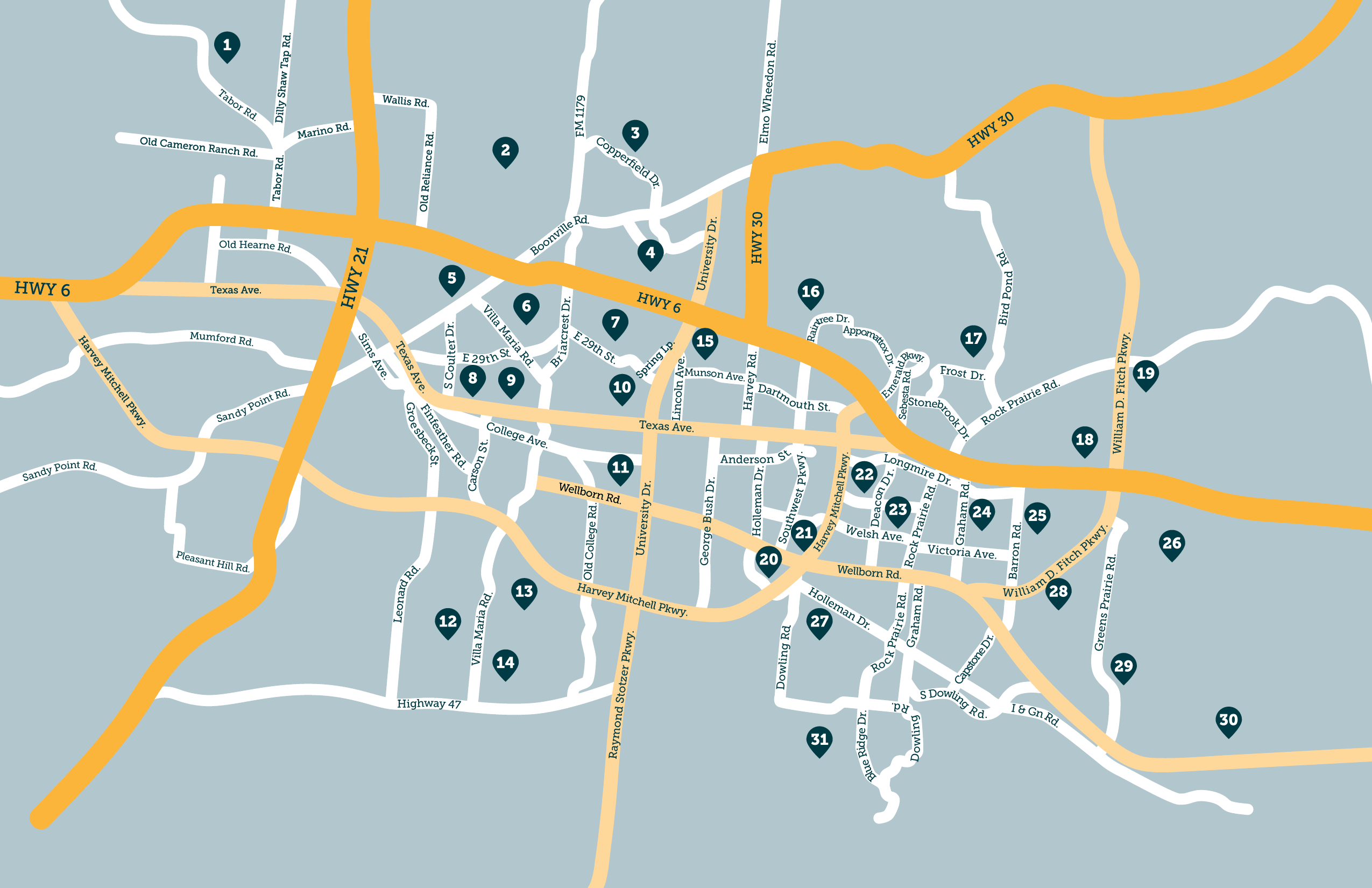 1. North Country Estates
Whether you are looking to purchase a home, or build your own on an undeveloped lot, this lovely neighborhood is sure to fit the bill. This lovely community gives its residents all the benefits of living in the country, but with manageable 1-2 acre lots. Located on the outskirts of northeast Bryan, a few miles east of Hwy 6 just off of Tabor Road, you'll get the best of town and country here!
2. Austin's Colony / Greenbrier / Rudder Pointe / Siena

These newer east Bryan neighborhoods offer easy access to all of BCS in a tranquil location, just east of Hwy 6 between Boonville Road and Old Reliance Road. With larger homes, spacious lots, walking trails and more. Siena also has its own community pool and lake. All of these subdivisions offer newer homes and are continuing to be developed – in some cases you can even have your own custom home built just the way you like it.
3. Copperfield / Miramont

These neighboring communities are located in east-central Bryan, just west of Hwy 6, between Boonville Road, FM 1179 and Copperfield Drive. Copperfield, one of Bryan's most established neighborhoods, features traditional-style brick homes at moderate prices, mature trees, walking trails, and a great park with community pool. Miramont is a luxury neighborhood nestled in and around Miramont Country Club and golf course. It features newer homes in classic European architecture styles and includes yard maintenance. The location of both is hard to beat – quiet, yet convenient.
4. Park Hudson / Tiffany Park / Wheeler Ridge

These neighborhoods offer a bit of something for everyone! The neighborhoods were established anywhere from the 70s to the 2000s, the home sizes range from 1,200 – 4,000 square feet, and a wide variety of price points, as well. All have easy access to Tiffany Park and Morris "Buzz Hamilton" Park, and Veterans Park and Athletic Complex is just across University Drive. Located on the very southeastern edge of Bryan just off Hwy 6, you'll have ease of access to all of Bryan and College Station.
5. Allen Forest / Allen Park

Located conveniently but nice and quiet, these neighborhoods between Martin Luther King Jr. Street and William J. Bryan Parkway have a lot to offer. Allen Forest is more established, with most homes built in the 1970s and 80s, while Allen Park features newer homes built in the early 2000s, many with views of their central pond. Both offer affordable homes, quiet streets, spacious lots, and easy access to Hwy 6 and Historic Downtown Bryan.
6. Briarcrest Estates / Briarcrest Valley
These neighborhoods surrounding the Philips Event Center golf course feature mature trees lining the streets and a wide variety of home sizes and styles at moderate prices. Lot sizes range from patio homes to huge estate lots. Situated in central Bryan just west of Hwy 6 between Boonville Road and Briarcrest Drive, you can't find a more convenient location.
7. The Oaks

This larger, well-established neighborhood, established in the 70s and 80s, features tree-lined streets, and nice homes on well-manicured, spacious lots. Bob Cherry Park is nestled right in the center of this community, right next to Johnson Elementary School. Situated in a very convenient location just off 29th Street and Carter Creek Parkway, it still retains a quiet and cozy vibe.
8. Brook Hollow

Tucked between Texas Avenue and 29th Street just off of Coulter Drive, this central Bryan neighborhood is a smaller, well-established neighborhood developed in the 70s and 80s. Quiet and low-crime, this neighborhood features a variety of lovingly maintained homes and townhomes, many of which have been beautifully renovated. Less than a mile from Historic Downtown Bryan and convenient to shopping, restaurants and more.
9. Culpepper Manor

This neighborhood features 1950s era ranch-style homes at reasonable prices, and close access to lots of Bryan amenities. The homes here are full of character and have larger lots up to 1/3 acre, beautiful views, and many homes have wonderful updates. Residents love the close proximity to both Blinn College and Texas A&M University.
10. Beverly Estates

This coveted neighborhood features spacious lots up to an acre or more, mature trees, and a wide variety of architectural styles, all at moderate prices. This tranquil community feels like it's in the country with its spacious, heavily wooded homesites, but it's conveniently right in the middle of town! Between Texas Avenue and 29th Street along Rosemary Drive, you're only seconds from University Drive, Century Square, and tons of shopping, restaurants and parks.
11. Highland Park (College Heights)

This gem of a neighborhood is just about as close to the A&M campus as you can get! Featuring older, established homes (this neighborhood was developed in the 1950s), many with wonderful renovations, many of these homes are rented to students, putting them near campus, Northgate, Century Square and so much more.
12. Autumn Lake/ Edgewater / Oak Meadow

Located on the southwest edge of Bryan just off of Villa Maria toward Riverside Parkway, these neighborhoods offer peace and quiet with easy access to RELLIS, A&M, Easterwood Airport, Historic Downtown Bryan and so much more. Featuring affordably priced, newer homes on spacious lots, as well as many new construction homes being added, this area is growing in popularity.
13. Shirewood / Westwood Estates

Conveniently located just west of Harvey Mitchell Parkway off of Villa Maria Road, these well-established neighborhoods give easy access to A&M, RELLIS, Research Valley Partnership Corridor, and Texas A&M Health Science center. Offering affordably priced traditional brick homes, wonderful mature shade trees, and walking trails throughout, you're sure to love the peaceful surroundings.
14. Traditions

This luxury community offers beautiful, very spacious homes in a variety of architectural styles, roomy lots, large shade trees, walking paths, a private golf course, and LOTS of amenities! It features a beautiful private golf course, lots of walking trails, shade trees, clubhouse with wine cellar and bar, fitness center with locker rooms, a family swim center with three pools, a senior living community, and Casitas and Cottages for visitors. Off of Villa Maria Road near Riverside Parkway, you'll have quick access to RELLIS, A&M, Easterwood Airport and much more.
15. Cat Hollow / Carter's Grove / College Hills / Glenhaven / Grand Oaks / Post Oak Forest

Near campus and lots of restaurants and shopping, these neighborhoods located off University Drive and Tarrow Street have a lot to offer. Cat Hollow and Glenhaven offer homes built in the 90s and 2000s, while College Hills features homes built from the 1930s to present, as well as some homes available to rent and a mix of architectural styles.
16. Carter's Crossing / Emerald Forest / North Forest / Raintree / Windwood

Most of these neighborhoods are quite established, with the exception of Carter's Crossing, which features newer homes. All of them offer a quiet locale, a wide range of home sizes, and larger lots. With lots of trees, a range of architectural styles and easy access to great parks, you'll feel away from the hustle and bustle while being just across the highway from all that College Station has to offer.
17. Bird Pond Estates / Emerald Ridge Estates / Foxfire / Sandstone / Woodcreek

Situated in southeast College Station just east of Hwy 6, these subdivisions are a quiet getaway from the traffic and noise of campus and town, while keeping you within minutes of everything you need, including College Station schools. Featuring large lots up to 5 acres and spacious homes 2,000 – 5,000 sq ft, you'll have plenty of room to make yourself comfortable, and the beautiful scenery and amenities, like wooded walking trails, ponds, pools, community playgrounds and more, are sure to provide a relaxing atmosphere.
18. Spring Meadows / Stone Forest / Woodland Hills

Get away from all the campus-related traffic, but stay close to all the best College Station conveniences. These wonderful, quiet neighborhoods are ready to welcome you with newer homes at moderate prices, nice landscaping, plentiful trees, and inneighborhood Woodland Hills Park. Less than 5 minutes from Lick Creek Park.
19. Lick Creek / Pebble Creek / Williams Creek

These gorgeous, upscale communities are located in south College Station just east of Hwy 6 and just south of William D. Fitch Parkway. Featuring very spacious homes on everything from patio lots to 8-acre homesites, you're sure to find something just your taste. There is a variety of architectural styles represented, from some of the best builders in the area. With majestic oaks, lush greenery, streams, and ponds, as well as easy 5 minute access to tons of College Station amenities, you get the best of country and city living. Nestled in next to Lick Creek Park with its miles of trails and nature center.
20. Canyon Creek Townhomes / Fox Run Condos / Jones Crossing

This area features tons of great condos and townhomes perfect for gameday getaways, investors or a lovely home for your Aggie student. Don't overlook these great neighborhoods which offer not only a great location near campus (just off of Harvey Mitchell Parkway), but also the safety of gated communities, amenities like pools, grills, and beautiful landscaping, and the benefit of their own HOAs.
21. Woodlands

These fantastic townhome style condos are close to everything with their location at Harvey Mitchell Parkway and Wellborn Road. These make a great investment opportunity or living situation for your Aggie student. Their proximity to campus (only 2 miles) and their great amenities like clubhouse fitness center, theater, basketball and tennis courts, running trails, pool, and car wash make this a very popular place to live.
22. Oakbrook Valley / Southwood Valley

These established neighborhoods, built from the 70s to the 90s, offer a blend of rented and owner-occupied homes. Located in central College Station off of Harvey Mitchell Parkway between Wellborn Road and Texas Avenue, they form one of the biggest neighborhoods in College Station. Like many neighborhoods their age, they feature large trees, mature landscaping, and beautiful surroundings in a location that can't be beat.
23. Brandon Heights / Devonshire / Edelweiss Estates & Gartens / Southwood Forest / Williams Court

These neighborhoods have something for everyone in a wonderful, central location off of Rock Prairie Road. With a wide range of home sizes and prices, the neighborhoods offer everything from an even mix of owner-occupied and rentals to more upscale, owner-focused communities. All of this is in within walking distance of some great parks and schools, and easy access to both Hwy 6 and Wellborn Road.
24. Bridlegate Estates / Cypress / Dove Crossing / Lakeside Village / Springbrook

These south central College station neighborhoods feature homes in the 1,400 – 2,600 sq ft range in a fantastic central location. Here you will find great homes at moderate prices, some featuring pools, lake views, elegant architecture, included front lawn care, and other upgrades. With great homes, and easy access to schools, shopping and restaurants, what more could you ask for?
25. Alexandria / Barron Crest / Reatta Meadows / Shenandoah / Spring Creek Gardens

These neighborhoods located in south College Station off Barron Road feature 1,200 – 2,500 sq ft homes on spacious lots. Barron Crest, Reatta Meadows, and Spring Creek Gardens have newer homes built from the 2000s to the present, while Alexandria and Shenandoah are more established. Shenandoah also has its own community clubhouse with pool, playground and tennis court. Spring Creek Gardens also has duplexes available.
26. Indian Lakes / Nantucket

These beautiful neighborhoods both offer roomy homes in a variety of architectural styles on spacious 1-5 acre lots, giving you a sense of country living, but with a touch more community feeling. Walk the many trails, fishin the sparkling lakes, and enjoy the quiet scenery. Indian Lakes also has a fabulous community clubhouse with tons of amenities. These wonderful south College Station communities are located just west of Hwy 6 and just south of Harvey Mitchell Parkway, offering you easy access to everywhere!
27. Great Oaks / Mission Ranch

These brand new communities are fantastic place to call home, right in the heart of Aggieland. With lots of undeveloped lots, new builder homes, patio homes and custom homes available, they'll steal your heart with their acres of green space, private lake, and miles of walking trails. If that doesn't get your attention, all the wonderful amenities will – stunning clubhouse, sparkling pool, fitness center, to name a few.
28. Barron Crossing / Brewster Pointe / Bridgewood /
Castlegate 1&2
Located off of William D. Fitch Parkway in south College Station, these neighborhoods have a lot to offer, from 1,349 sq ft townhomes in Barron Crossing to single family homes up to 3,500 sq ft in Castlegate. All of these options are newer, having been built in the 2000s, with many homes still being built today. They also feature plenty of sidewalks or walking trails, great yards, ponds, common spaces, and access to great parks.
29. Sweetwater & Sweetwater Forest / Woodlake
Situated on the outskirts of south College Station off of Greens Prairie Road, these communities offer acreage homesites, mature oaks, lake and pond views, plenty of Texas wildlife, elegant architecture, and spacious, high-quality homes. Here you get all the quiet and scenery of country living, while still having neighbors nearby and easy access to city conveniences.
30. Bentwood Estates / Duck Haven / River Place / Saddle Creek / Sendera / Tuscany Trace / Winding Creek
Offering gorgeous, spacious homes in a country setting on the south outskirts of College Station just off Wellborn Road, these neighborhoods are a welcome retreat. Here you will find space to relax with their acreage homesites, natural wildlife, ponds, and majestic trees. You get all the perks of country living just moments from city convenience and zoned for College Station schools.
31. Estates at River Run
This lovely community located on the northwest outskirts of College Station just off Dowling Road offers country living near the city and zoned for College Station schools. With a healthy variety of home sizes and prices, and lots ranging from 3 – 15 acres, you'll love the rural feel with city conveniences just moments away!