If you've been paying attention to the housing market, you know that it has been a very interesting year. Home values are on the rise, with lots of people wanting to buy and not enough houses to go around. Interest rates have also gone up. With all this going on, many people are wondering: Is it still a good time to buy a house? Maybe I should wait.
It's a valid question! There's no doubt, there have definitely been easier times to be a home buyer. However, if you are otherwise in a position to buy, it's important to take a step back and look at the big picture. Though prices and interest rates have gone up, which increase costs for buyers, it's possible that the costs of waiting could be even higher. Let's break it all down.
Home Prices
Though home prices are on the rise, waiting for them to go down is not necessarily the prudent choice it may appear to be at first glance. First, prices are unlikely to go down; just the opposite in fact – they are predicted to continue rising for some time to come (though at a slower rate than they are now). So if you are waiting for the bubble to burst… it just might not happen.
Appreciation
Second, waiting to buy not only means you're missing out on the comparatively lower prices available now, you are also missing out on the appreciation of your purchase.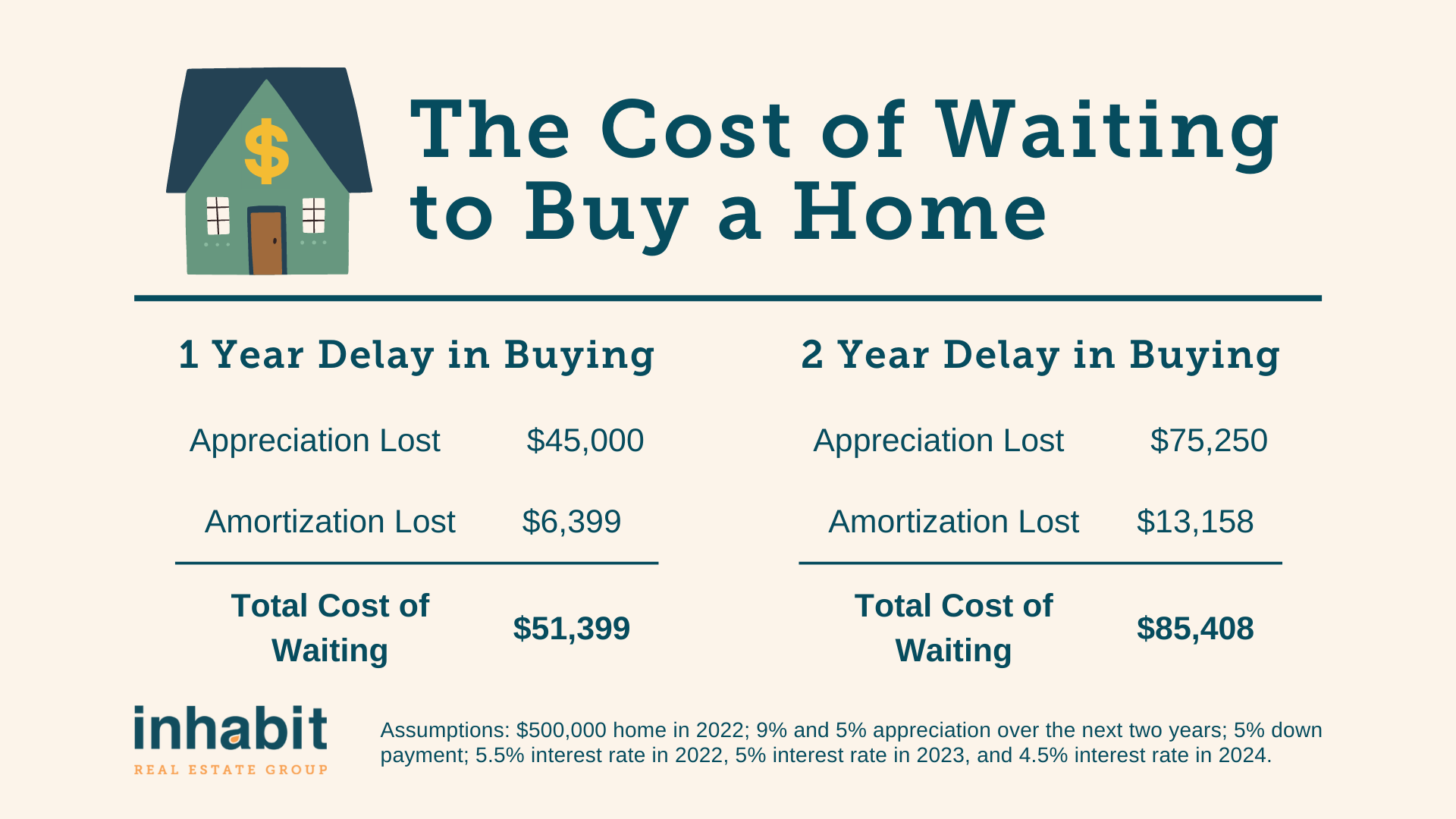 Let's say you are interested in buying a $500,000 home now, but decide to wait. That same home is likely to cost $545,000 next year, and $572,250 the year after that. (This is assuming an appreciation rate of 9% over the next year, and of 5% the year after that. This is the average of predictions made by CoreLogic, The Mortgage Bankers Association, Fannie Mae, and Zillow.[1]) So not only will house prices be more expensive when you decide to look again in a year or two, but if you had purchased when you originally thought of it, your purchase would have increased in value significantly – value that you unfortunately have now missed out on.
Lost Amortization
The lost year or two is also time that you are missing out on amortization (payoff of your original loan amount, or equity gained).
Let's say you decided to purchase that $500,000 house now after all. You paid a $25,000 down payment (5%), and have a 30 year mortgage at a 5.5% interest rate. In one year you would have shaved off over $6,000 of your original loan balance. In two, it would be up to $13,000.
Whereas in two years if you hadn't purchased the home yet, you'd be at 0% equity, AND have a more expensive price point on that home. Combining the appreciation and the amortization you missed out on, waiting two years could cost you roughly $85,000 in this scenario.
Real Estate as Investment
We've been talking primarily about the purchase of a home so far, but all of the above also apply to folks wanting to invest in real estate. In addition to the above points, real estate is also generally considered a fairly safe investment, since home values almost always rise over time. If you have been seeing your stocks take a dip lately, why not consider investing in real estate for awhile? Some folks even use their self-directed IRA for this purpose.
Conclusion
Of course, it's very important to note that all of this depends on your particular situation. What applies generally may not apply for you at this exact moment in your life. It is important to determine what is appropriate for you based on your finances, future plans, and preferences. A conversation with a trusted real estate or mortgage professional can be a very valuable part of helping you get the information you need to make these decisions.
Thinking of buying or selling soon? Talk to one of our experienced agents today. Special thanks to Jordan Monroe at Legacy Mutual Mortgage for his expertise and spreadsheets, which were a tremendous help with this post!